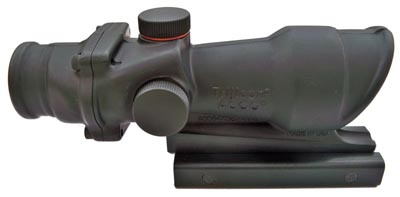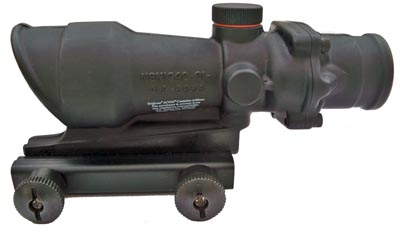 Trijicon ACOG TA01 Riflescope

Trijicon ACOG (Advanced Combat Optical Gun sight) 4 x 32 riflescope with automatic ranging reticle pattern which is tritium illuminated for low-light or night shooting.
The ACOG 4 x 32 is designed to provide enhanced target identification and hit probability for the M16 and AR15 rifle out to 800 meters. The centre of the crosshair pattern is illuminated in low light or complete darkness. It glows red at night from the power of a tritium lamp that lasts for at least 10 years before replacement is needed.
The ACOG 4 x 32 has been available since 1989 and is being used by many U.S government, military, state and federal agencies as well as the commercial market. Trijicon Inc. is currently under contract to supply ACOGs to the U.S Special Forces.
The ACOG 4 x 32 is 100% U.S made. The body is machined from 7075-T6 aluminium forgings for superior strength and durability. It is hard anodized for corrosion resistance. The material and finish is identical to the M16 and AR15. The ACOG 4 x 32 is internally adjustable which allows the shock loads from rough handling to be carried by the scope body and not the adjustment mechanism.
Trijicon sight is complete with: Hard case, TA35 rubber eyepiece, TA51 flattop adaptor for colt and military style rail, TA52 rubber scope cap, TA53 thumb screw for ACOGs with M16 base, Lens Pen and instruction manual.
Price: £995.00