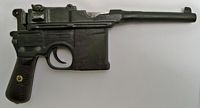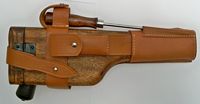 Mauser C96 "Broomhandle" Pistol with Shoulder Stock
Everyone from Winston Churchill to Han Solo loved the 'Mauser Selbstladepistole Construktion 96'. Han Solo, of course, new it as the DL-44 Blaster. Churchill lost his when he was captured by Boer commandos during the Boer War. Curiously, he was a reporter in that war. He tells us that, when it was clear the British would be captured, he quickly got rid of his cartridges, which had soft-point bullets. That was a no-no in the Geneva Convention. Over a million C-96 pistols were made by Mauser, making this one, serial number 132206, very early in the cycle.
The pistol is in a well used condition and comes with a wooden holster/shoulder stock with belt attachments. It is supplied with a London Proof House Certificate.
NOT AVAILABLE