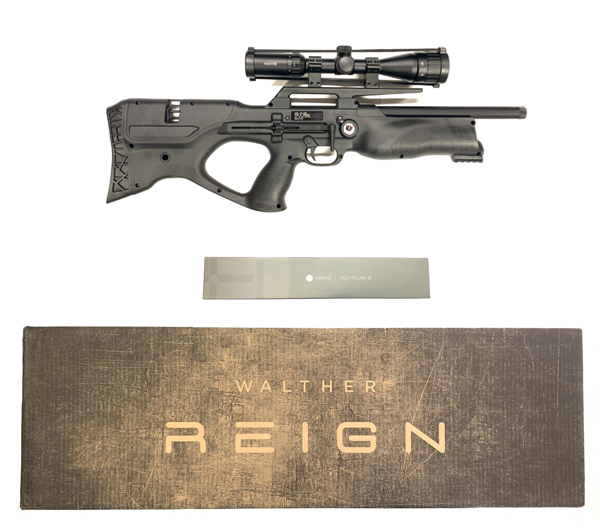 Walther "Reign" / Hawke Package - The Ultimate Lightweight Bull Pup!

The Walther Reign is a pre-charged pneumatic sidelever – activated, multi shot sporter. The buddy-bottle air reservoir completely enclosed within the matte-black, ambidextrous polymer 'shells' of the thumbhole stock.
There is a .177 11 shot magazine, so this Bull Pup rifle is ideal for field target and vermin control. In stock!!
Overall length: 685mm, length of pull: 320mm, barrel length: 430mm, weight: 2.5kg, trigger: 2 stage adjustable, safety: resettable cross-bolt, power: 11.5 ft lbs.
This truly ambidextrous air rifle and at 3.2kg with scope mounts is a true lightweight! The muzzle is threaded for silencer, you can expect around 130 shots for .177 from a full 230 bar fill.
Each Reign is supplied with a quick fill connector that simply plugs into the charging port next to the gauge. Typical high quality German design and engineering.
Hawke 3-9x40 AO MIC DOT scope and double screw scope mounts. This is one of the most compact best value scopes on the market. The scope has fully coated optics for maximum clarity, the wide view optical system is ideal for vermin/field target shooting; the scope is waterproof, shock proof, fog proof and comes with the Hawke Worldwide Warranty!
Recommended retail price of this package is £868.95, our price £799.00. A saving of £69.95!
Optional Extra's:

K3 NEO Silencer £46.50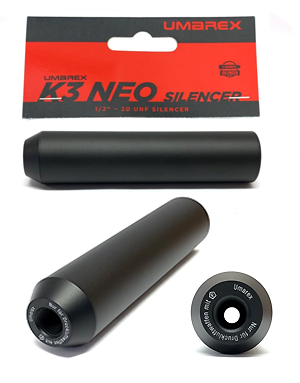 Swiss Arms Tactical Gun Bag £29.50

500 JSB Pellets .177 £10.00