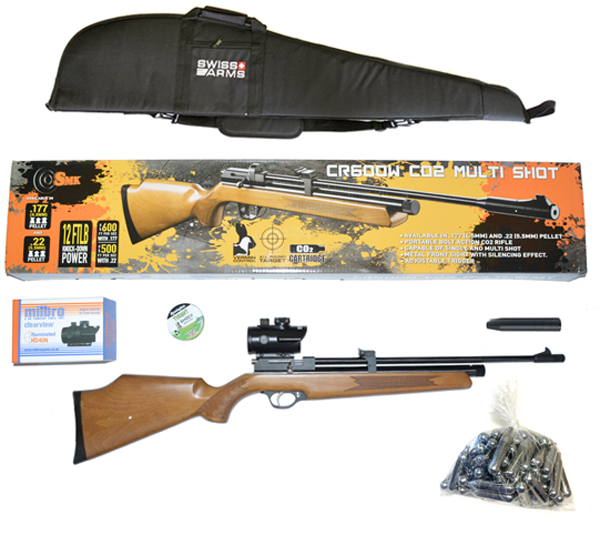 CR600W Co2 Multi Shot Vermin Control .177 Rifle Package

This rifle comes complete with open sights and is fitted with optional Milbro Dot sight.
The CR600W has a beech stock, chequered pistol grip, rubber recoil pad (no recoil with this rifle!), adjustable safety. This model has a thread protector at the muzzle that can be removed and a silencer fitted (supplied free with this package).
Rifle weight: 201kg, so very light and easy to handle. Length: 950mm, width: 55mm, height: 200mm.
The Milbro 'clear view' illuminated HD4ON dot sight is adjustable for windage and elevation, with clamps to suit 9-11mm rails. The illuminated dot has red or green with 5 intensity settings. The battery is fitted into the sight and comes with a spare. The sight is supplied with strong rubber lens covers and a full set of user instructions.
The package comes complete with: HD40N red dot sight, 500x Remington 'Tyrant' shock .177 pellets, Air Arms rifle bag and 50 x Co2 capsules.
Package price: £235.00 (saving £35.99 from RRP)
Additional Rifle Extra's:

50 targets £4.00 Knock down target £19.95 Express oil £5.00
Rabbit knock down target - Remington air gun target. Reset by pulling cord (supplied). The 'bullseye' zone can be adjusted to 3 diameters according to the skill of the marksman. Heavy gauge steel construction, supplied with 4 metal pins to anchor the target. For use with lead air gun pellets only!