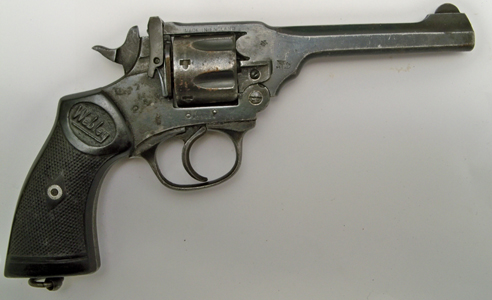 Webley Revolver
Great Britain replaced its famous .455 – inch Webley Mk VI with a new similar revolver designed at RSAF Enfield in calibre .38/200. The new revolver, called the Pistol Revolver .38 No. 2 Mk 1, could not be manufactured fast enough when the Second World War got underway, so additional pistols were purchased from commercial sources.
One of the major suppliers of these secondary standard handguns was Webley and Scott, who produced a revolver very similar in size, configuration and operation to the No.2 Mk 1. It fired the same .38/200 cartridge and was made in very large numbers. It is as much a part of British WW2 equipage as the No.2 pistol, although of commercial manufacture. Like the No.2 Mk 1, this Webley has a hammer spur and single/double action operation.
This particular example is marked 'Mark IV .38' and also bears Webley marks and a broad arrow mark (showing this example was crown property). The grips on this pistol are complete and undamaged, the hammer cocks and the action fires. The cylinder on this example dose not turn when the hammer is drawn back and it will not eject when the action is broken. (Hence price.) It retains the majority of its original bluing and the markings are clear. It comes complete with London Proof House certificate.
SOLD